Today is the 14th consecutive day a heat advisory or excessive heat warning has been in place for the area. Climatologically, when a significant high pressure sets up over Southeast Texas in the summer the system tends to stay relatively in place for 2-3 weeks before a change in the synoptic scale pattern changes causing a change in the overall weather we experience. Long range modeling suggests the current heat wave will progress in the same manner. This week will be hot with a heat product (advisory or excessive heat warning) likely in place every day now through Saturday.
Independence Day is a week from tomorrow, so many holiday related activities will take place over the weekend, and, of course, on Independence Day proper. Some people may even be lucky enough that their employer (like me) is giving their employees Monday off. So what does the holiday period look like?
The prevailing mid and upper level flow changes by the weekend, and flattens out the ridge and erodes the eastern side of the ridge. This will lead to cooler weather. Cooler is a relative term, as temperatures go from the low 100s during the work week to the upper 90s by the weekend. Still, at this point any reduction in the heat is welcomed. Lows will remain in the upper 70s to lower 80s. Areas south and east of Houston will see temperatures drop into the upper 90s before the city and points west, and may end up with upper 90s starting Thursday.
Saturday will still have dangerous heat, and a good chance for a heat advisory. Even if the heat index doesn't quite reach 108 to support a heat advisory the heat is still going to be a factor for any holiday celebrations, be it a backyard bar-b-q or a larger municipality or civic association sponsored event. Make sure to take precautions, even if Saturday ends the streak of heat advisory days.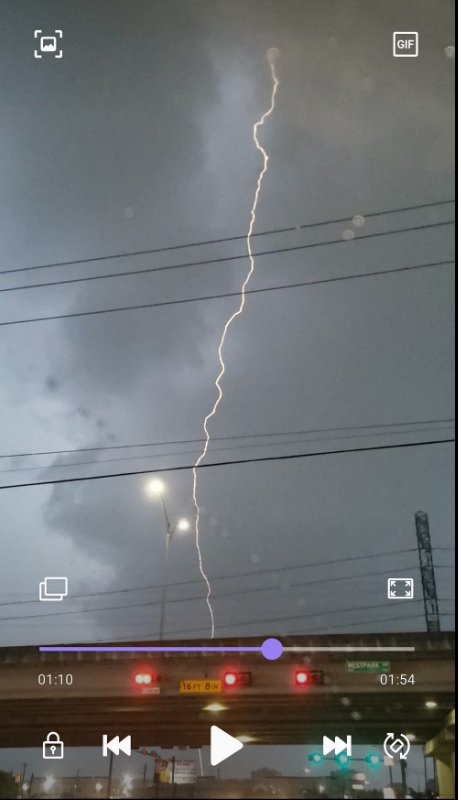 Lightning from storms last week.
The other noticeable change will be the return of a chance for precipitation. As we saw last week, when we are on the edge of the high pressure system, or the system weakens some, the resulting storm cells can be rather intense. This is because we are both hot and humid, meaning that plenty of heat and humidity are in place to support a storm cell if one develops. While organized severe weather is not expected, any isolated or scattered cells that develop have the potential to produce significant impacts. Nothing suggests altering outdoor plans is necessary, but do be aware that any routine summertime type of cells that develop are likely to be more intense than normal.